Time To Read: 20 minutes
What to expect at your hearing test
A Comprehensive Hearing Assessment designed for Exceptional Client Outcomes
What to expect at your hearing test
At Value Hearing, we believe that making empowered decisions is a result of being well-informed. This is why we set aside ninety minutes for our initial assessments; to provide you with the knowledge you need to make an educated decision. People who have experienced hearing assessments before often ask us what happens to make them so long (most hearing assessments these days run between thirty and sixty minutes), and so we have put together this quick guide to help understand what it is we do, and what can be expected during an assessment with one of our clinicians.
Before your initial appointment
Before you step into our clinic, we want to start understanding your hearing difficulties and needs. After you book your appointment, you will receive an email with our Online Case History Form. This provides our team with an overview of your concerns and history so that we can tailor the session to your unique needs. We ask that you return this form to us as soon as convenient so that our hearing specialists can anticipate any special requests that you may have.
Let the Assessment begin!
Your appointment will begin with a discussion of the information you have already provided us. At this point it can help to let your clinician know of any expectations, or prior information you have received in regards to your hearing.
Making sure there are no medical issues
The next step is for us to examine your ear health. This involves a visual inspection of the ear canal (otoscopy). All of our clinics are equipped with video otoscopes that allow you to view what the audiologist does. Depending on your case history, and otoscopy, your hearing specialist may also wish to check your middle ear health. While this is not always necessary, it can help to provide further information on your overall ear health. We do this by placing a bit of pressure in the ear canal and measuring the movement of the eardrum (compliance). This test takes only a few seconds and feels similar to when your ears change pressure in an airplane.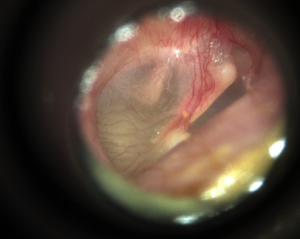 Example of an eardrum as seen via otoscopy
Establishing your hearing ability
Once we are satisfied that we can obtain accurate results, we will establish your hearing thresholds. During this part of the assessment, we are looking to establish the softest sounds that you can hear. Your clinician will present a series of beeps and ask you to press a button whenever you hear one, even if it is very quiet. It is not uncommon to think that you are hearing a sound when nothing is there. Our hearing specialists are all skilled at identifying, and resolving, this if it happens during your appointment.
Hearing speech in quiet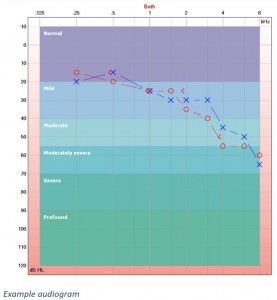 After your hearing thresholds are established, the next step is to determine how this impacts your ability to understand speech in quiet. To do this, your clinician will ask you to repeat back words that you hear. These words may vary in volume, and guessing is encouraged if you don't quite catch what is said.
Hearing speech in noise
The final part of the hearing aid assessment involves measuring your hearing ability in more challenging listening environments. This is done through a scientifically measured assessment of speech understanding in background noise (called the QSIN). During this test, you will be asked to repeat back sentences in increasingly louder levels of background noise. This step is important in determining the real-world impact of your hearing loss (as very few of us are truly ever in truly quiet environments). Your audiologist will present these sentences at a volume which corrects for your hearing loss in order to understand how different hearing aids may benefit you.
Explaining the results
Once the testing has been completed your hearing specialist will explain your results. We begin by providing an overview of the different parts of the ear (and their functions). Your results are then explained in relation to this information. Your audiologist will point out how your results relate to your unique hearing difficulties, and what potential solutions are suitable for your needs.
We begin by explaining the function of the ear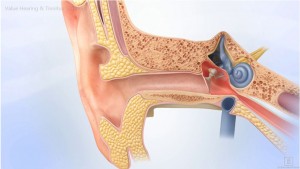 Your Ideal Hearing Solution is recommended
After all the testing, our audiologists have a strong indication of which one, or two, hearing aid models are best suited to your needs. We do this by utilising our in-house developed system to determine which devices are most suitable to meet your hearing needs in quiet, and in background noise (as determined by the QSIN). We then take into consideration your lifestyle, budget and personal preferences to select the device(s) best matched to you. Over the years we have found that this system helps our clinicians to avoid over-prescribing expensive technology that may not yield a practical benefit to you. Our clinicians are not incentivised to sell one brand over another, and we are not bonded to one particular manufacturing house. This allows us to select the device we think is best for the individual's needs.


Hearing aids come in many shapes and technologies. Our in-house developed system helps us to select the best solution for you.
At any point throughout this process, our clinicians welcome your questions and comments as to the recommendations they are making. They are happy to discuss alternative brands you may have been recommended, as well as the advantages and disadvantages of selecting higher or lower technology levels. This can help you to be confident that you are making an informed decision about your hearing devices.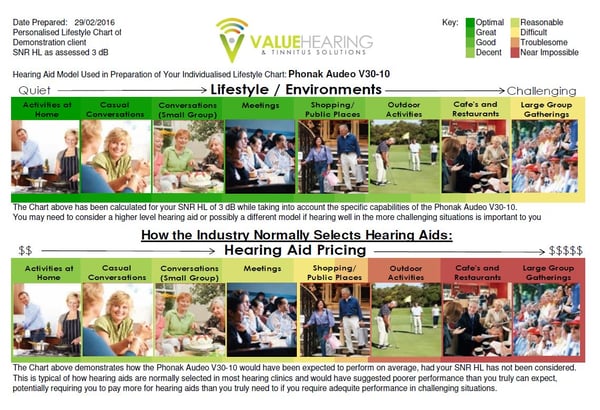 What's next?
Once you and your hearing specialist have selected your device, the next step is to arrange a fitting appointment. It is possible to fit you at your initial hearing aid assessment if we have your preferred device in stock. Please note, that if you wish to be fitted on the day of the appointment, it is advisable you let your staff know early on in the appointment as this can help determine their recommendations. If we do not have your preferred device in stock then our team will order it for you and we can see you again in as little as a day's time to fit you with your new hearing aids.
Our difference is to your benefit
As you can see, there is a lot to cover in a hearing assessment. We've found that the 90 minute assessment gives us enough time to perform a complete series of tests, and explain your results and recommendations, without having to rush through anything. Over the years we've found that this empowers our clients to be better informed about their hearing care and has contributed to our high client satisfaction levels (98% on independent surveys, and a higher Net Promoter Score (NPSTM) than AppleTM).
View Video
Here are a few comments from actual clients about their experiences with our hearing aid assessment
So far the experience has been fantastic. The company I was originally referred to by my Doctor was much more expensive, had little information about the product, seemed keen to sell me the top of the range product regardless of my actual requirements and did not follow up with me at all after my initial appointment. Your company is the exact opposite! The clinician I saw (Anna-Marie Marais) was informative, understanding and I did not feel pressured to buy more than was required for my hearing problems. She also explained the purpose of the testing she performed which is a very nice change from the usual. Bottom line is that I was ready to purchase by the time we had finished the consultation. Very happy to refer friends, relatives and work colleagues to you. Cheers. David
Jill spent a lot of time doing tests and explaining things clearly. She certainly seems to know what she is talking about and doesn't exhibit a "hard" mentality. As well, you sell more than one brand of aid, meaning your clients are not locked into the features of one particular manufacturer. G.H.
Michael was calm & patient as I didn't have a great deal of knowledge about hearing aids, answered all my questions, was nice with sense of humour. Your prices fantastic compared to other quotes, great 60 days to change your mind, especially when surgery is pending and your needs may change afterwards. Mara P
The test was very comprehensive, the advice was sound and the price wasn't exorbitant! J.E.
Great pre-appointment information, Michael was excellent and very professional and thorough & hearing aids purchased were considerably cheaper than my local audiologist clinic.
B.H. Melbourne
Emily was very informative, the information provided was very detailed and the reasons for doing things were explained. The tests undertaken were more thorough than any I've had before. AW - Perth
I was amazed at how much more information about my hearing was shown to me via technology.
Being shown the reason why you shouldn't put things in your hear and how to combat cleanliness of the ear (e.g. Clean Ears spray).
I liked the concept around actually connecting and visualising how the audiology connects to the brain.
I was very happy with my appointment and getting to know the ins and outs of my hearing and getting a sample of the aids to assist me in my day to day life.
I am grateful that you give the information about the financial opportunity to finance with Mac Credit. I look forward to hopefully receiving the approval for finance to purchase the aids and my long term relationship with Value Hearing. Thankyou Christo and the team.
Regards
Kathy
Nicholas was incredibly helpful and friendly. Couldn't have asked for better experience. I was nervous about this step (getting hearing aids) but he made it easy. K.D
Professional service. An understanding of customers needs. Consultations are relaxed and informative. Never any pressure on any issue. Like the Newsletter.
A pleasure to be a client. J.D.
I have been tremendously impressed with your organisation. The initial draw card was the price but have been pleasantly surprised by the professionalism and dedication of the staff. You operate with the latest technology. Importantly for me you work with your clients (from my experience) to help them arrive at the best solution to suit there needs. P.S
Anna-Marie took the time to answer all of my questions and gave me a lot of useful information.
The Hearing Aid Assessment was great value and I would highly recommend it. M.B
The clinician was great, she explained everything really well and made me feel comfortable with the whole process. K.P
Friendly, helpful service, No pressure selling, thorough testing, product works extremely well. C.K.
I would definitely recommend your clinic and feel the test was very comprehensive and thorough.
I came away with a full understanding of my hearing problems. C.B.
As a person who lost his hearing rather suddenly (Meniere's), I was unsure of what services/hearing aids would suite me. I had attended another company and was not happy with the outcome. Right from the outset, your service was friendly and understanding. Emily was friendly, understanding and patient. She was extremely knowledgeable about the products available, I trailed three products before settling on a purchase. Since then, I have attended for a number of adjustments, each time receiving the same friendly, patient, understanding, and knowledgeable service from the whole team. Thanks!!
Michael was extremely professional and did not try to sell me any product and was clear and precise about what my options are.
I am n retail and his approach was great. S.H.
A professional attitude to our needs and understanding of our financial situation without pressurising us. E.C.
Not interested in selling just interested in providing me solutions to my problem, very impressed. S.L.
Excellent and personal service,no pressure just an outstanding result!! R.K.
A very pleasant and knowledgeable audiologist who was every obliging and explained everything very well. Also the price of the hearing aids compared very favourable with other suppliers. C.H.
Very good customer service. Range of products to evaluate. On time appointments, no waiting around. Able to supply support products quickly. P.L.
Very happy with the service and testing my hearing loss in various ranges was very thorough. Everything was explained well to me. All my questions were answered. And the price was great too. P.B.
Thorough explanations. No hard sell sales pitch. Talking through all appropriate options. Felt pastorally cared for and understood. Third hearing test experience within two weeks and by far the best. M.O.
All staff were courteous, reliable and friendly. Pleasant experience, as this was my first time at a hearing Centre. S.C.
I find Nicholas a very competent, knowledgeable and customer focussed professional - in stark contrast to others I have tried.
I am more than happy to place myself in his care. D.B.
Friendly professional service and after care is excellent. I was never made to feel awkward especially when learning to manage my hearing aids at the beginning. M.S.
Honest assessment of my options. Not trying to push the purchase of a new hearing aid rather than trying to improve my present one. K.Z.
Alisha was very professional and highly efficient. She covered everything I needed to know and made me feel very much at ease. I would definitely recommend her to anyone suffering hearing loss and the daunting process of deciding on which hearing aids to buy. S.G.