When Phonak released the revolutionary Audeo Marvel hearing aid in November 2018, it was the first hearing aid on the market to be able to stream to any Bluetooth device, not just iPhone, as most competitor hearing aid brands are still limited to.
UPDATE:(31/8/20) Phonak's Audeo Marvel has now been superseded by the brand new Phonak Paradise range of hearing aids. Phonak Virto, Bolero and Naida is still running on the Marvel 2.0 platform for the time being.
Phonak's Marvel did more than just bring higher quality Bluetooth streaming and hands free phone calls. It was also built on Phonak's leading technologies for improving hearing in noise and automaticity. In the process, Phonak improved the sound quality and design of the hearing aid to make, what can now be considered one of the classic hearing aids of its time.
Marvel also has rechargeable versions available, but if you wanted telecoil, you'd be stuck with normal disposable batteries as your only option.
The proof of this has been in the thousands of people fitted with these multifunctional marvels not only in our clinics but also globally to become one of the best rated and best selling hearing aids ever.
Just when we thought things couldn't get better...
Now Phonak has released an updated version, which they are calling Marvel 2.0.
Unlike previous generations, where you might be expected to dish out for new hearing aids to obtain the new benefits, this time you're being given something for nothing. That is, if you were one of the early adopters of Marvel, prior to this release.
Phonak has graciously allowed all existing models to be upgraded via an in-office firmware upgrade, at no charge!
All you need to do is contact your audiologist for a visit, where they'll be able to upgrade your current Marvel hearing aids to the new version with a 5 minute in office software patch.
What's new in Marvel 2.0 from Phonak?
To understand what makes Marvel 2.0 a great update, one needs to first understand where Marvel (1.0) could be improved.
I have personally been using and fitting Marvel since it came out. I love the way I can use them as headphones when travelling, while listening to podcasts and audiobooks. I use them to stream Netflix from my laptop when trapped in a hotel somewhere. This was all doable, but it required me to disconnect the hearing aids from my phone, before connecting the laptop, and doing everything in reverse when I wanted to connect the phone again.
This was not something I would have recommended any but my most technically capable clients to do.
Another thing lacking is that you could only connect a single TV connector to any set of hearing aids. The TV connector is great as it streams high quality Dolby Stereo sound straight from the televisions straight into your hearing aids. The problem comes when you have more than one television at home.
This was a problem for many of my clients, who might have one television in the lounge and another in the bedroom. They decided to get two TV connectors, but would have to go through the process of pairing the aids to the TV unit each time the used the other TV. Fiddly, to say the least.
The Phonak Remote app for the Marvel is rubbish in my opinion and looking at the Apple app store ratings, I was not the only one to think so. It basically limited you to volume control and program changes, while also being a bit intermittent. Overall, it was more trouble than it was worth. I actually recommended AGAINST using it!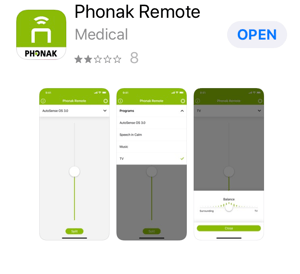 All of this is now fixed in Marvel 2.0!
Once you have upgraded, you can enjoy improvements in all the aspects mentioned above plus more.
You can now have up to two Bluetooth classic devices paired at the same time to the hearing aids, meaning you do not have to decide on just one favourite.
It also means you can use audio from your phone and laptop or iPad or tablet or even Bluetooth TV (2 devices max) without having to go through the pairing, forget pairing, repair, forget pairing... process each time you change devices. I don't believe any made for iPhone hearing aid can pair to more than one device at a time. Please correct me if I am wrong.
You can have up to two TV connectors paired at the same time. So say hello to beautifully clear TV sound on more than one TV with two TV connectors!
The Remote app will likle be scrapped and has been superseded by the updated MyPhonak app. The MyPhonak app allows things like a hearing diary to rate your hearing aid experience, remote assistance for convenient remote adjustments by your hearing care professional as well as a really nice remote control function.
The remote control really shines and is a stark contrast from their first attempt. Apart from the basics that the first version contained, you can now create your own programs on the fly. You have control over things like tone, noise reduction, speech focus, and how soft sounds are handled. By making these adjustments, you can get the hearing aids working just right without having to revert to your audiologist all the time.
As a plus, Bluetooth stability seems to have been improved in my real life use, so drop outs feel like they are happening less. Maybe it is my imagination but, as we know, placebo is powerful. I recommend you judge for yourself.
More...
Better Hearing in noise
The new Marvel 2.0 update also allows for Roger Direct integration. Roger is a remote microphone technology, that can improve hearing in noise by up to 62%.
This has been available for years, but it used to be very clunky to use. You would need integrated receivers to pick up the sound transmitted from the microphone in the best case scenario. This would make the hearing aid very large and bulky. Alternatively, you'd have to use a neckloop for receiving the signal and would have to set your hearing aids on telecoil to use it. This is much more fiddly than any but the most extreme users would tolerate.
With Marvel 2.0, the receivers are integrated into the hearing aid (even Marvel 1.0 had it - this update just activates it).
There will be new Roger microphones available that will work without any fiddling with the Marvel 2.0. If you have an older Roger device, you can use it, but you will require a Roger X for each aid (which you may already have).
We can then transfer the Roger X licence to the Marvel using special software, which will be available from the end of September/early October 2019 when the new Roger Microphone are released. With the new Roger microphones, no such transfer will be required, as it will contain the licence for the receiver in the Roger itself. So in short, unless you already own a Roger microphone, do not purchase one that is not a Roger iN (Marvel compatible) as it may end up costing you more.
New Models
With the new update, Phonak is also releasing new hearing aid styles. Obviously these aren't simply upgrades, but entirely new hearing aids
Phonak Audeo M - RT
The long awaited Audeo M- RT, the rechargeable model with telecoil really has it all. It has all the Marvel features, including Bluetooth, it's rechargeable and has built in telecoil for access to public loops and landline telephones. So it offers the ultimate in connectivity. The Audeo M - RT will be available in Australia from around November 2019
For those who cannot wait, you can make use of our 60 day no penalty exchange period to get fitted with the M-R now and swap over to the M-RT once available at no extra cost (as long as it is the same level device e.g M90 R = M90 RT)
Bolero MM & M PR
Two new styles, based on behind the ear hearing aids, with tubing instead of receiver in the ear, as with Audeo, will become available soon. The first to launch will be the Bolero MM, which is a smaller BTE for less severe hearing loss. The more powerful, rechargeable Bolero M PR will launch late in 2019.
Hint: I expect in the ear Marvel models to become available in the first 1/2 of 2020 - you didn't hear it here 🙂
Conclusion
These are exciting times and I look forward to seeing how others go with these Marvel improvements. If you are currently using remote support, you'll need to get your Marvel (1.0) hearing aids updated in clinic before you can continue doing so.
To get your Marvel upgraded, simply contact your hearing care professional, who will need to see you in clinic for the 5 or so minute update process (make sure your hearing aids have new batteries if applicable).