Phonak's brand new, 2020, Audeo Paradise range of hearing aids builds on the remarkable success of the very popular Marvel range, first released in 2018. Earlier this year we saw the Marvel portfolio completed when the Virto M in the ear hearing aids were released. For those not in the know Audeo is Phonak's name for their receiver in the canal style hearing aids.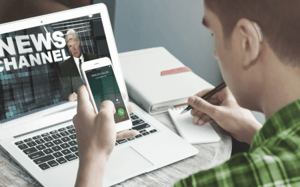 The Phonak Audeo Paradise has a slightly redesigned casing, but the difference between it and the Audeo Marvel is hard to spot. Inside things have changed dramatically though. Paradise finally updates the 5 year old, but remarkably capable Venture chipset used in the Marvel to a brand new chipset called Prism. The Prism chipset has double the memory of the Venture and also boasts more power and lower power consumption. The wireless radio in the Paradise has also been updated allowing more active connections and noticably improved Bluetooth stability.
I suspect and hope that this new radio chip will allow the Paradise to be paired with a CROS microphone in the near future (I suspect early 2021). This has been something that was sorely missing from the Marvel range of hearing aids.
UPDATE: The Paradise range is also now available in the power full Naida Paradise for severe to profound hearing loss. It comes in two variants. The Rechargeable Naida P -PR and the Ultra Powerful Naida P - UP using a size 675 battery. This gives a larger fitting range than was possible wth Naida M. Naida P is available as Naida P30 - PR, Naida P30-UP, Naida P50-PR, Naida P50-UP, Naida P70-PR, Naida P70-UP, Naida P90-PR, Naida P90-UP
What does Paradise have in common with Marvel?
Considering Marvel's runaway success and huge popularity, one would hope that Phonak builds on that success rather than throw out the baby with the bath water.
I can say with confidence, after studying the Paradise, that it shares everything that is good about Marvel, but also builds on that in meaningful ways.
The rechargeable battery is the same as used in Marvel and offers the same quick charging and 6 year estimated lifespan.It also has all the same chargers and power pack as Marvel.

As with Phonak Marvel, Paradise has Stereo Bluetooth Classic streaming from any Bluetooth 4.2 or higher Mobile phone in high fidelity. It also has hands free calling which was so handy on Marvel. It uses the same accessories, including Roger iN microphones with the Marvel.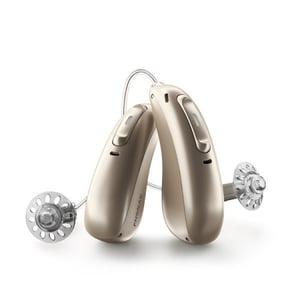 Like Marvel, Phonak Audeo Paradise comes in 4 technology levels, all with rechargeable and telecoil options. It shares the rocker switch functionality, even though the switch is slightly narrower on Paradise.
Paradise still offers Phonak's Airstream technology, so it is compatible with the TV connector and other Marvel accessories using this like the PartnerMic.
Paradise shares most of the special features of Marvel, except for SNR Boost (discussed in more detail later).
Phonak Audeo Paradise still allows remote assistance with video calling as does Marvel. This provides additional convenience in the form of at home adjustments by your professional over the internet and saves on in clinic visits.
What is new in Phonak's Paradise hearing aids?
Paradise offers a whole new more powerful platform as mentioned earlier. This opens up more processing power and memory for improved algorithms. The result should be improved sound quality and overall performance.
Phonak has reworked the fitting formula to match the hearing aid to your hearing loss. This improves on the already stellar first fit acceptance of Marvel. The result should be more happy users without too much fine tuning.
Phonak Audeo Paradise (P) comes in 4 different styles where Marvel offered 5. Paradise offers the Audeo P - R, Audeo P RT, Audeo P 13T and Audeo P 312. (T indicated telecoil and R indicated the use of a Lithium-Ion battery). The missing model in the P range is the 312T, which might not have been overly popular in Marvel.
Phonak's Audeo P (Paradise) offers 7 colour choices vs the 9 on Marvel. Alpine white (T7 - Alpine white and P3 Sandalwood) appears to be missing from the Phonak Audeo Paradise range of hearing aids. I have never fitted any T7 since Marvel was introduced, but P3 is a colour we used from time to time.
The new chipset allows for improved performance overall delivering improved sound quality as well as some new features in select models.
All models now have the option of 4 manual programs, compared to the limit of three found in Marvel. This is most likely due to the doubling of memory on Paradise.
The Audeo P90 gets two new features not found in any of the other levels or ranges. The First is Dynamic Noise Cancellation, which is a new type of noise reduction algorithm which reportedly improves signal to noise ratio by 4dB in background noise situations. 4dB is significant and should lead to better speech understanding in noisy situations. This is likely an upgrade of SNR boost, which was a Marvel feature, but is missing on the features list of the Paradise.
The second new feature, unique to the P90 level is Speech Enhancer. This feature is not new to the word of hearing aids, but is something Phonak has never before offered. It basically works mainly in quiet situations and picks up soft speech and gives it an additional boost. This allows the user to hear softer or more distance speech clearer. Having used the Audeo P90-R for 4 weeks now, I can say the difference between it and the Marvel when it comes to hearing quiet speech in very noticable. The Paradise P90 delivers crisp comfortable speech without boosting soft noises.
The Audeo Paradise 90, 70 and 50 (rechargeable models only) also benefits from the addition of a very low power accelerometer. It has been mentioned elsewhere that the voltage requirement for the accelerometer is above that delivered by replaceable cell batteries, hence the availability being restricted to only rechargeable models. The accelerometer allows the hearing aid to measure even the slightest movements as well as the direction of those movements. This allows the movement data to be combined with other hearing aid features to offer some useful capabilities. Phonak has used this sensor to offer two features available in the rechargeable models only.
The first is Tap Control. Phonak's Tap control allows the user to use a number of taps, that can be assigned by the user in the MyPhonak 4.0 smartphone app to control various functions of the hearing aid.
You could use it to activate Siri or Google assistant and then speak your commands without having to touch your phone. This is great if you want directions or quick information and could potentially allow voice dialing. Touch control also allows you to pause or resume streaming and accept/end phone calls. Tap control is only available in the following models: Audeo P90-R, Audeo P90-RT, Audeo P70R, Audeo P70-RT. None of the standard replaceable battery cell versions contain this feature. The Audeo P30 and Audeo P50 ranges also miss out. I do find the Siri tap a bit annoying at times when I take of my glasses while streaming audio and Siri comes in to interrupt. Fortunately this can be turned off as well by the audiologist.
The second accelerometer enabled feature which is limited to the P90-R & RT, P70 R & RT and P50 R & RT is Motion Sensor Hearing. This feature detects the movement of the hearing aid user and steers the directional microphones based on this information. This allows improved hearing in noise as the hearing aid knows whether you are moving or not and can focus in the direction of speech. This gives a much more natural listening experience while moving.
Another feature listed for the Audeo Paradise at the 90, 70 and 50 level is Roger and Directional setting. Not much is said about it, but from the name I would guess it allows the hearing aids to be in directional mode, while it is connected to a Roger Microphone for improved performance in noise.
The wireless chip used in the Paradise has been improved to now allow 2 active Bluetooth connections and 8 paired connections. This means you can be actively linked to your phone and laptop or tablet without having to disconnect one first. This was one of the more frustrating things I found with Marvel and this is a very welcome change. It seamlessly swithes between my phone and windows PC, depending on which device is currently streaming. The stability of the connection is also much improved over Marvel with drop outs being rare.
Paradise can also stream the names of callers directly into your hearing aids as well as your phone's ringtone, making it easier to know whether to answer a call without looking at your phone.
Early reports also mention that calling quality has improved for the person on the other end, even in noisier situations. This is something Marvel struggled with. I have tested in the car with kids chattering on the backseat and have had no complaints, unlike with Marvel.
Paradise also uses AutoSense 4.0 which has been trained using Artificial Intelligence. It takes into account the new sensors and features to deliver improved automatic changes as your environment changes.
The Power output of Audeo Paradise has been improved, allowing slightly more severe hearing loss to be fitted than was possible with Audeo Marvel.
Conclusion:
Paradise offers a solid upgrade from Marvel. I wouldn't think there'd be too much incentive for existing Marvel users to upgrade at all, but for those in the market for new hearing aids, it should be a serious consideration.
I am personally looking enjoy using the Tap Control feature to pause and resume strearming comapred to my Marvels as I use these as replacement headphones for listening to Music, Audiobooks and Podcasts.
Unfortunately existing Marvel hearing aids cannot be upgraded to Paradise as all the internal hardware has changed.
Considering Phonak's previous release cycles, one would expect Bolero Paradise (behind the ear models) to be released early to Mid next year. This is then normally followed by the Powerful Naida range for severe to Profound losses. This is then followed by the in the ear Virto Range about 18 months from now. Note: I have no access to their release schedule and am purely basing it on their past patterns.
So despite the weird name of Phonak's new release, all appears well in Paradise.
Paradise is available to order now. You can view our Paradise pricing online.