by Pauline Primrose-Heaney
Widex as a hearing aid manufacturer has been around for 65 years with a current team of over 1000 engineers and developers working on their research and development. The focus for Widex has always been about accessing real-world sounds to address the problems presented by hearing loss.
Widex introduced the Moment family of hearing devices in March 2020. To understand their revolution, it's worth first taking a look at the features that have been standard in Widex technology, which now includes Moment, for a number of years.
For a while now, Widex has used TruInput technology in how they capture and sample a sound before converting it to a digital signal to be processed. While most hearing aid manufacturers offer an input range of 52-96 dB SPL, Widex uses a sound input range of 108 dB SPL, covering sounds from 5-113 dB SPL. This gives the user access to whispers and other nuances of softer sounds as well as desirable loud sounds, providing a sound that relates to the real world.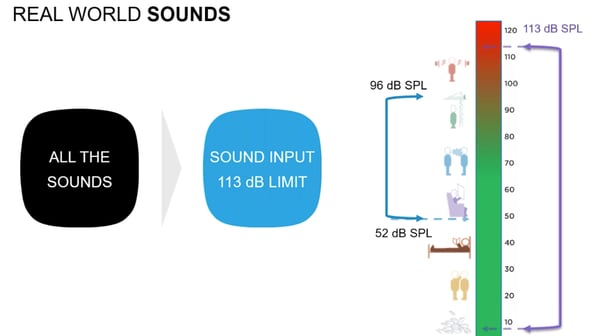 Widex strongly believes in 'fitting the person, not the hearing loss'. The fundamental goal is to optimise the amplification for the needs of the user.
One of the tools audiologists use is Pure Tone Audiometry, which was not developed for rehabilitation, but rather for diagnostic purposes. Therefore, it may not be the most appropriate tool to use to set up amplification for a damaged cochlea.
Widex believes the most appropriate tool is in-situ (obtaining an audiogram through the hearing aid which measures the sound AFTER it's been processed through the hearing aid and channeled into the ear canal). Widex introduced this concept, called the Sensogram, with their first digital hearing aid in 1995. It works best when combined with the feedback test to manage the behaviour of sound in the ear canal.
Widex also utilises a higher-than norm sampling rate of 32 kHz as it takes the analogue sound to convert it to a digital sound for processing. The industry standard is 20-24 kHz. The higher sampling rate equates to a clean, rich, and full sound. A lower sampling rate can mean poor resolution, distortion, and a poor sound quality.
Digital signal processing then begins to create a clear sound by providing gain and removing noise. This takes time, which introduces delay. That in turn introduces the challenges of distortion, artificial sounds, and artifacts in the signal - the sound received can be boomy, hollow and unpleasant.
A fast rate of signal processing is the key in avoiding this.
Currently, Widex boasts the lowest delay in the industry - 2.5 milliseconds (other manufacturers have measured around 6-8 mS).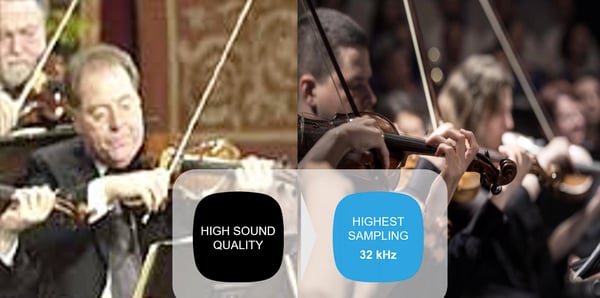 Now on to signal processing. All hearing aid signal processing takes the frequency range of sounds and splits it into smaller packages that are easier to manipulate - known as bandwidths.
While the rest of the industry uses a solution that cuts the bandwidths into equal sizes, Widex signal processing doesn't use equal bands so that there is more detailed focus on the mid frequencies where a lot of important speech information resides. This also minimises delay, distortion, artefacts and artificial sound. Another benefit is that it uses very little memory, which assists in optimising battery life.
The Widex fitting rationale then pulls all the above features together to optimise the fitting for the individual hearing loss.
Widex utilises 15 bands mapped to 15 channels to mimic cochlear processing. While other manufacturers do offer more channels which may sound more appealing, more bands equates to more processing, therefore more delay, and more distortion and artifacts. So it's important to keep in mind that the best hearing outcomes are not necessarily achieved by opting for a hearing aid that offers more channels. By mimicking the bandwidths of the normal ear, Widex aims to maximise the naturalness of the sound by working in a similar way to the cochlea. The Widex fitting rationale has 3 key objectives:
1. To provide audibility for soft sounds;
2. To provide a balance of sound for speech intelligibility, and;
3. To manage and maintain loud sounds for comfort.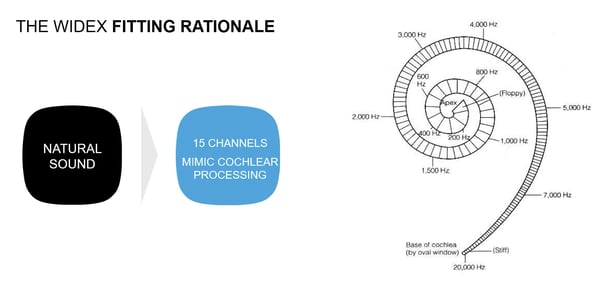 Finally, Widex wanted to continue to provide choice and control over the sounds the hearing aid user wants to hear, which is why their previous family of hearing devices, Evoke, was launched in 2018.
Evoke introduced a world-first feature called SoundSense Learn, based on machine learning and artificial intelligence, which was designed to give the user the ability to hear what they want to hear, which may not always be what the device is programmed by the hearing specialist to hear.
We know that everyone listens differently - attention to sounds is different, motivation is different, the listening goal is different. SoundSense Learn was developed to meet these different listening needs. It is available as a feature of the Android and Apple app for the hearing aid, and the user can listen to sound by doing an A/B sound comparison and selecting the sound that they prefer, and even develop a personal program based on listening preferences. In fact, Widex has been using the data obtained from this, and currently has a sample size of over 10,000 users with more than 33,000 different personal programs - very strong evidence that users want to hear different sounds and that listening is a personal experience.
Now onto what makes Moment different from previous hearing aids. Despite technology that focuses on real-world sounds and gives control to the user, too many people looking for a hearing aid don't end up purchasing one.
Widex delved deeper into reasons why people still reject hearing aids. Their main conclusion was that while hearing aid technology has become smaller and more cosmetically-appealing with the introduction of receiver-in-canal (RIC) hearing aids, and open fittings for mild to moderate hearing losses, fitting rationales are designed for more occluded fittings. An open fitting can cause a mismatch of sounds coming through the ear naturally versus sounds coming through the aid. It is this mismatch that causes the hearing aid to sound artificial. No matter how good a hearing aid is, it will still sound like a hearing aid.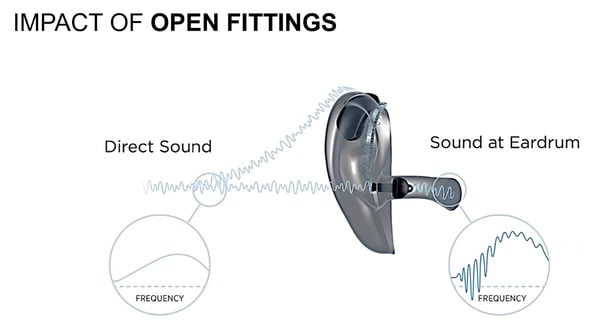 The aim when developing Moment was to remove the artificial sound associated with open fittings and to redefine the fitting rationale to take open fittings into account.
If you think about it, the chipset of a modern digital hearing aid is quite incredible. It needs to process sound information for up to 2 microphones as well as for 2.4 GHz technology, clean up sounds, remove feedback, compress and expand sound, classify sounds, apply noise reduction and speech enhancement, check for wind noise, then integrate everything into the core of the processor to calculate prescribed gain.
Delay is created before the sound can even reach the ear drum. This delay is not an issue for someone fitted with a more occluding dome or earmould; however, for someone fitted with an open or even a loose-fitting closed dome, the sound from the hearing aid reaches the ear drum later than direct sound. Widex Moment boasts a redesigned chip with a new pathway and new processing strategy designed specifically for people with mild to moderate hearing loss (these tend to be open fittings).
This new technology is called ZeroDelay, and the design of the new pathway skips everything that typically slows the processing down. However, all the essential information and sound preferences held in the core of the chip are still utilised. Widex introduced a new program option that uses ZeroDelay, called PureSound. PureSound is now the fastest digital signal processing ever, with a delay of less than 0.5 mS. Its sound quality is more similar to unamplified sound, or the sound that the user remembers.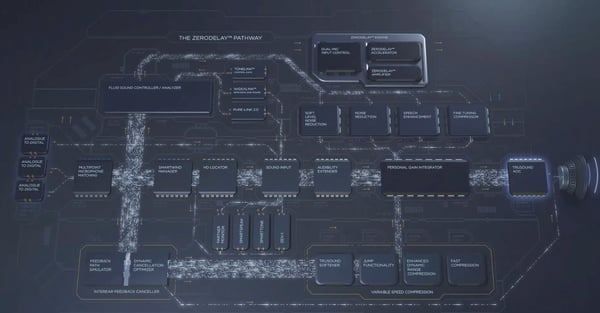 A new fitting rationale, TruAcoustics, was also designed for Moment, which takes into account open fittings. The benefits of having TruAcoustics for an open fitting are better own voice perception, less echo, less boominess, and faster adaptation to the sound. Where a hearing specialist used to reduce gain to make the hearing aid sound more natural, TruAcoustics, combined with PureSound and ZeroDelay, means that a user can hear more sounds, more naturally, and faster.
In terms of features, Moment is identical to Evoke, but with the new PureSound program which is based on ZeroDelay technology, and the new TruAcoustics fitting rationale.
In terms of hardware, Moment offers a new design as well as a new naming structure. Moment is available in 3 RIC styles - RIC 312 D (similar to the previous Fusion), RIC 10 (similar to the previous Passion) and a new RIC style - mRIC R D. Moment is also available in 3 custom aid options - XP, ITE/ITC and CIC.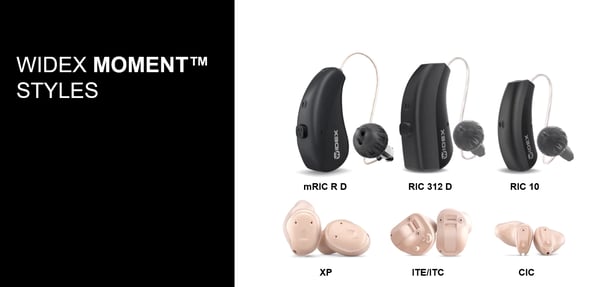 The most exciting news of the Moment release form factors is the mRIC R D - the first Lithium-Ion (Li-Ion) rechargeable device from Widex, and the smallest Li-Ion device on the current market. The mRIC R D is built with more durable microphones, added protection around the receiver connection and nanocoating on all hardware. It also introduces a new receiver - Version 2 EasyWear, which is currently only compatible with the mRIC R D. The new receiver is smaller than previous designs and made from stainless steel. Additionally, the receiver angle allows for better security in the ear.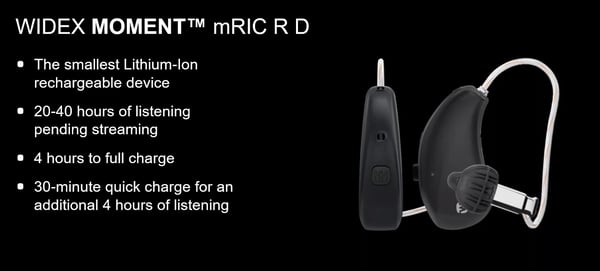 The mRIC R D charger has a lightweight aluminium casing that is compact and uses induction charging, which means no contacts to keep clean and fewer gaps for moisture to enter the hearing aid.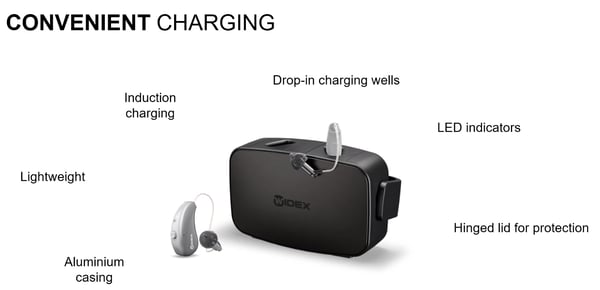 Of all the Moment styles available, only the RIC 312 D and mRIC R D use 2.4 GHz and offer direct connectivity. They are made for iPhone to allow direct streaming of phone calls, music and other audio streaming from Apple devices. The upgraded Bluetooth means that it's ready for Android streaming and streaming to Widex TV Play in the future; however, Widex are waiting on an ETA for the required firmware updates.

There is also a new Smartphone app available for Apple and Android - the Widex Moment app. This app can be used to interact with the RIC 312 D and mRIC RD hearing aids. The previous Widex ToneLink app which uses high frequency sounds through the phone speaker to communicate with the hearing aids is still available to use with all other Moment hearing aids, including the 2.4 GHZ RICs.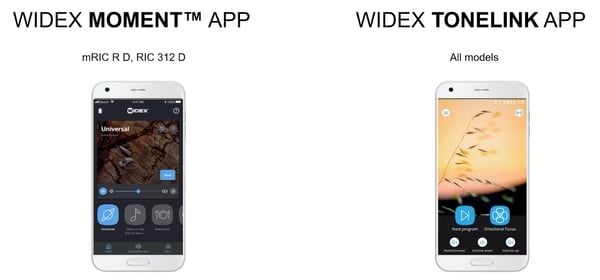 Widex has still left the control where it should be - with the user. SoundSense Learn is available in the Widex Moment app. This troubleshooting tool uses A/B comparisons to guide the user to the best possible sound for that particular moment.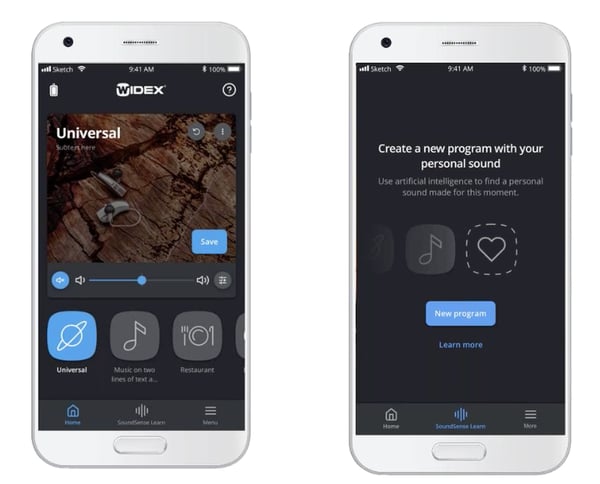 This data can be securely shared in real time with the hearing specialist via Real Life Insights so that they have more insight into how the user wants to hear. Finally, Widex Remote Care provides completely synchronous remote hearing aid adjustments. This is ideal for those that are time-poor or less mobile, and saves on travel time to and from the hearing clinic. It uses a Smartphone app, Widex Remote Care, and an accessory worn around the neck, Widex Remote Link, to allow the hearing specialist to connect remotely. Unlike many other manufacturers, Remote Care gives access to all features of the hearing aid software to provide a truly remote hearing rehabilitation service. Widex Remote Care is available for ALL Widex wireless devices - Dream, Unique, Beyond, Evoke, and Moment.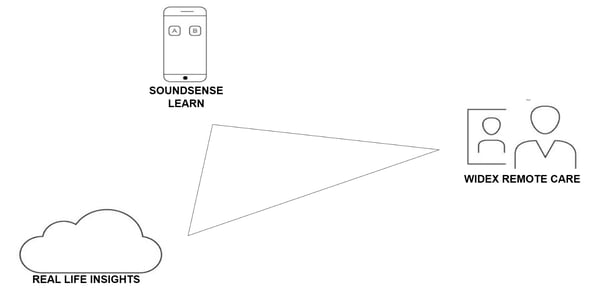 Widex Moment introduces a new revolution in sound - PureSound using ZeroDelay technology where sounds are processed so quickly that distortion is eliminated. TruAcoustics delivers the most accurate Widex fitting to date. It is available in 13 different colours in 6 different styles (RIC and custom) and in the 110, 220, 330, and 440 technology levels. Please note that SoundSense Learn is only available from the 220 level upwards. Moment was designed to take care of the user's hearing needs from the first time they are fit, and over the course of their hearing lives by continuing to provide the sound quality that makes Widex hearing devices unique, as well as offering more user control through SoundSense Learn and Remote Care.