Time to Read: 4 minutes
Too many hearing aid clinics are only concerned with the initial sale. A few are even very keen to offer attractive prices just to get your business, but they soon forget about you once your money is in their pockets! This is a complaint we have heard from several clients moving to us from other providers: "They just don't care!".
At Value Hearing, we are serious about your long-term success and satisfaction. We have in place a rolling survey that measures client satisfaction at five different points along the journey with us, starting immediately after the initial assessment right through to 5 years+ after the initial hearing aid fitting. We survey all our hearing aid clients once every 6 months unless they opt-out.
We have had several thousand responses, with more pouring in daily and the numbers are very encouraging. Using the Net Promoter Score ®, which is a recognised and widely used score measuring client satisfaction and experience as a single number ranging from -100 to +100 (Not a Percentage), we can compare our performance against the leaders in client satisfaction in the world. The way it works is that a score below 0 is considered poor, above 0 is good, above 20 is favourable, and a score above 50 is considered Excellent, and above 80 is seen as world-class according to Bain & Company, the creators of NPS®.
For example, Apple Computers™ is considered to be a leader in client satisfaction and boasts one of the best NPS® scores out there. Harley Davidson Motor Cycles ™ scores similarly to Apple™ with a score of +67. There are very few companies in our industry using this score so far with global averages according to Eurotrak ranging from -65 (Japan) to +33 (Switzerland).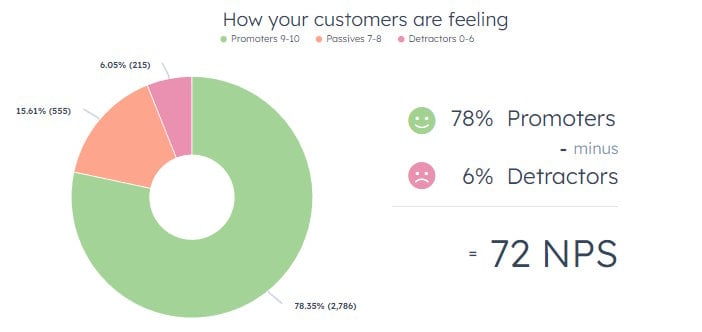 We are very proud that Value Hearing has achieved, at the time of writing, an long-term (2019-2023), overall NPS® score of +72, which is higher than most companies in the world. AustraliaTrak 2021, a survey of over 14,000 Australians, puts the average NPS® score for Australian hearing clinics at 26. So Value Hearing performs well above the industry standard. In fact, our score over the last 3 months has been sitting at 88, which is world-class. This is exactly what we are striving for over the long-term and we'd like you to join us on our journey.

Australiatrak 2021 puts the average NPS for Australian hearing clinics at 26
We use this score as a way to consistently improve our service to you and also to actively follow up with those we have failed to satisfy in order to make things right wherever possible.
So our Promise to You that we provide long-term client satisfaction is not simply just something we say, it is what we live by.
It is a Proven FACT!
Do you wish to experience world-class service from your hearing clinic?