Time to Read: 25 minutes
These are the sort of experiences we strive to deliver each and every day:
"I liked the comprehensive hearing test. I felt that it analyzed my hearing well and showed the level of hearing aid most appropriate for my needs. Pauline, the audiologist, was very thorough in explaining everything to me. I was impressed that when she asked me about the first set of aids she recommended and I replied that they sounded unnatural, she immediately programmed hearing aids from a different manufacturer to see if I liked them better. She was at no time rushing me or putting pressure on me to buy and gave me plenty of time to evaluate the two options she had provided. A very positive experience." - Rita from Sydney
Value Hearing's story is a quite bit different from most hearing clinics in Australia.
Like many new businesses, the start wasn't easy; this struggle was confounded by an industry that had grown stale and profitable by gouging clients for what the market would bear. What was worse is that the people who ended up paying the most were often under-served, as there were and still are no regulations governing the level of service to self-funded clients.
After working in the industry for 11 years and seeing this occur time and time again in the various hearing service models I worked in (and there were a few), I decided there was a much better way to do what I set out to do when I studied audiology, which was to help people with hearing loss, without gouging them for every cent I could. My belief was – and still is – service first, profits second.
So with my first child just born and my wife a stay at home mum after giving up her career as an audiologist, I decided to start planning the business early in 2009. I started looking at the issues I was aware of in the industry:
Self-Funded clients were overcharged significantly;
High Commissions often amounting to over a Thousand dollars per sale were commonly paid to clinicians to sell top end hearing aids, which clients often did not need.
All the administrative efforts of the clinics were on their pension clients, as they were contracted to the Government to deliver a certain level of service to these clients. This system is heavily audited and comes with big penalties for non-compliance, so;
Clinics were so busy servicing their pension contracts that they had very little time in their schedules to provide the same level of service to self-funded clients. Corners were often cut with self-funded clients;
Self-funded clients who weren't protected by a government contract ended up paying much more, while not receiving the level of service they paid for;
Clinics weren't specialised enough. They used the pension system as their bread and butter, then they often added other non-profitable services like children's assessments, earplugs etc. to keep them busy. They employed high mark-ups to devices purchased by self-funded clients to make a profit and to cover the losses incurred by the other services. Therefore, under-served and overcharged self-funded clients were often used to subsidise other less-profitable services.
Hence the concept was born and a model was devised to address all these issues.
The new business would:
Specialise in self-funded clients only;
Get rid of sales bonuses, instead offering a low sub $100 per aid sold satisfaction bonus to our clinicians, which they only got to keep if you, the the client was happy. This amount was the same irrespective of what instrument was prescribed, as not to create an ethical dilemma, where the clinician felt pressure to prescribe a higher end instrument
Create an innovative hearing aid selection process, that meant more people got exactly the hearing aid they need, rather than the one most likely to bring the greatest profit.
Deliver services that exceeded the price paid and would far exceed those offered elsewhere. We were in it to WOW, which is one of our core values even today;
Each client would pay their own way, so we could do all of this while offering much lower prices (initially up to $5000 less in some instances);
Spend more time educating, and thus empowering, our clients so they can make the right decisions for them;
Ensure our client receive long term benefit way past the initial honey moon period; and
Continuously strive towards delivering ever-improving levels of service to our ideal client.
Naming my second "Baby":
The time came to decide on a name, and names like "Half-Price Hearing," "Hearing Aid Warehouse," and even "Budget Hearing" were considered. These just did not resonate, as the price was not the sole focus. It was simply a result of our speciality and the fact that each client would pay their own way. Despite our fair pricing, we still wanted to WOW clients far beyond what they could expect (even when paying thousands of dollars more) elsewhere. This is why the name "Value Hearing" was eventually decided upon as in my eyes, we would be offering much better VALUE by delivering services and outcomes far in excess of any competitor, while being priced much better than anyone else.
In September 2009, the name was registered under a Sole trader in WA, and I gave my notice to my last employer at the time. I managed to rent a dingy office in Applecross WA, and spent $40 000 out of our home loan overdraft to obtain equipment, furnishings, computers and all the other bits and pieces needed to start the business. I also took out around $50,000 in equipment loans from manufacturers to help get me going. In my spare time, I set out to build my own basic website. This was the first hearing aid website in Australia to have the entire pricelist available for download at that time.
I spent around $3000 to run my first Newspaper ad in the West Australian, advertising: "Save up to $3000 a pair off Premium hearing aids." My hopes were very high, because how could people not love the offer? I opened the doors on the 1st of October 2009 and waited for the phone to ring…... Nothing….. Not entirely true, I had one veteran call me about tinnitus, but he hung up on me! We ran another ad despite my money running out quickly. By then I had set up online booking for the business (the first in our industry) and I had my first tinnitus assessment book in, giving me an income of $200! Exciting times indeed. My wife still had some contacts in the industry and got me my first hearing aid client, who, by the way, is still an avid supporter of the business.
But, business was quiet….. until one day I discovered a $50 Google Adwords certificate in my mailbox. I went straight out and bought the book "Google Adwords for Dummies," and set out to create my account. I created a few ads based around the keywords "hearing aids" and drove them to my home page (yes I know!). I was one of the very first companies in my industry to use this medium, but I had nothing to lose. I had no money, but time was still on my side.
That evening my wife and I went to a long-deserved dinner in Fremantle. Suddenly my phone sent through notifications of one email contact after another, or so it felt. There were at least 30 new potential client contacts that first night alone. I couldn't believe my eyes. The next day, a Saturday, I spent most of my time replying to the emails. Many of them turned into appointments and we haven't looked back since. Within the next month, I had fitted around 30 hearing aids, which is exceptional, considering most well-established (5 Years or older) clinics have clinicians fit around 17 a month. We even had people from Melbourne and Sydney contacting us, and some even flew in to come see me in Perth! By February 2010, I employed my first full time staff member, a practice manager, as it got too busy for me to manage it all on my own.
These were exciting days and my naivety made me think it would go on forever, but then the threatening calls and letters started coming….
I heard about competitors claiming we were doing things "illegally" as we were showing up in Google above them (they didn't understand how Adwords worked!). I had manufacturers call me saying that they needed me to take my prices off my website as it was affecting other providers, or I would risk losing my supply from them. I even had legal letters to similar effect. One manufacturer's CEO called me and said he was ceasing supply to me as his retail outlets were complaining about my low prices! I wasn't even given the opportunity to respond.
These were difficult days and I was left with one of two choices. Either stop trying to help my clients obtain excellent hearing care at f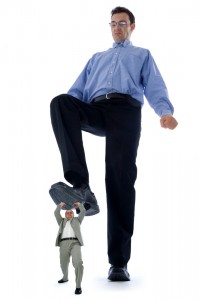 air pricing and give in, or fight for what is fair against these large companies with big budgets. I decided to stand up and fight. I approached the ACCC, but they said they were unable to help without written proof. I approached a corner lawyer and got him to respond on my behalf, basically telling the much bigger attacking companies to back off. It didn't work. One supplier still refused supply on the grounds of my lower pricing and another cut off any discounts I had previously received, forcing me to raise my prices for those products accordingly. Despite the lack of discounts, our hearing aid prices were still around $4,000 a pair less than their own retail chain. Fortunately, I still had seven other suppliers supporting me. One's sales manager even kept me up-to-date about what was said about me at industry meetings. It was truly interesting to see such big companies worry about a one-man operation in Perth.
We opened in Sydney in 2010 at 299 Elizabeth Street, this clinic was recently located to 95 Pitt Street, Sydney. I employed my third and fourth staff members that year, an audiologist and a receptionist. I managed Sydney by flying in every two weeks, serving the clinic for a couple of days, and then flying back. This was hard but exhilarating work, and the testimonials from highly-satisfied clients kept coming. This was what kept me going even when things were tough. I knew deep within my soul that I was doing the right thing by serving my clients first.
It was interesting that most of the negativity that I faced from helping clients fairly came from the largest retailers in the industry. Injurious falsehoods such as the rumour that I was using a receptionist to fit hearing aids to clients in Sydney in the Hilton were circulated among the management of those large retailers, but I decided to ignore them and continue to my quest to deliver ever-improving services at great prices to the self-funded Australian client with hearing loss.
Despite these manufacturers' attacks against me, I kept supporting those who still supplied me, as it was always my policy to give my clients the best devices to suit their needs, despite any personal feelings I might have against a certain supplier. Eventually, the supplier that cut me off had the CEO in question removed and my supply was reinstated. Again, I was happy to offer these models if they offered client benefits over others. In fact, our policy even today is that our audiologists' roles are to deliver us, satisfied clients. We don't care which price range, brand, or model they use to achieve this as long as the choice is made with the best interest of the client in mind.
Things went well for a while again. In May 2011, my family and I relocated to Sydney as the clinic there just became too busy for FIFO-type work. In October 2012 I opened a third full-time clinic in Chatswood, NSW to accommodate clients from Northern Sydney. Sydney CBD dealt with clients from the South and West but also had a lot of people traveling from Canberra and interstate as it was right on the airport line.
It was around this time that my first copycat competitor came online in Perth as well. They very quickly opened a clinic in Sydney and another in Queensland as well. Their model was quite similar, and they tried to undercut our pricing, without considering the service aspect. This was very good for clients as they started to have some more choice. Unfortunately, the manufacturers involved before played the same tricks on the newcomers. They put up a brave fight but eventually retracted back to being a clinic in Perth only, working with an ear specialist. Their demise was to our benefit as I employed their Sydney and Queensland audiologists.
This provided me the opportunity to open up a new clinic in Robina on the Gold Coast (Since relocated to Varsity Lakes) in March 2012. It also meant that the ACCC took my initial complaints more seriously, and an investigation was launched, concluding in a verdict against one of the manufacturers. I believe this opened up the path for other providers to employ low-priced models as well. The issues with manufacturers didn't stop there. Another manufacturer's CEO approached me in 2012 and wanted to investigate if the quality of service we provided was consistent with their brand image. The conclusion at that point was that we were, despite our low prices, a high-quality provider as we spend more time with our clients and use gold standard techniques and processes not regularly employed regularly elsewhere.
During all this time, we didn't simply focus on price; we were able to refine our processes to deliver exceptional outcomes and we were able to test and develop a unique process of hearing selection. This process, which is still unique to us, is able to pinpoint a client's ideal hearing solution within one or two hearing aid models out of all the brands and models available to you. This is why independence for manufacturers is important to me as not every brand's hearing aid models will work equally well for all clients.
Compare this to the traditional hearing aid supply model which still uses a menu-like approach, listing top end to low end, with the top end inevitably being framed as the best, but most expensive option and the low-cost option being portrayed as a compromise but being more affordable. This is particularly the case if you mention that you have an active lifestyle. Our process allows us to identify the exact level that best suits a client's assessed abilities in noise and quiet. And in MANY cases, this is NOT the top end of the range. What is more concerning lately is that early data is trickling through, suggesting that too much help in noise may not be that good for you. We've adjusted our approach to take these early in-house findings into account.
We believed that our troubles with suppliers were dealt with. In the meantime, we opened a full-time clinic in Brisbane. It came as quite a surprise when the same company who judged us to be good enough to portray their premium image in 2012, sent us a letter stating that our model did not support their premium brand positioning and that they were ceasing supply to us in September 2014. Apparently they disliked our quote. I contacted the ACCC with the letter this supplier and once again was told there was nothing they could do as they did not stipulate a recommended price, but they instead referenced our quote, which is apparently legal. We also learnt that this same company refused to create accounts for new providers who appear to be using a low-priced approach. We believe this stand comes from this supplier being the main supplier to two of the largest hearing aid retail chains in Australia. We have heard from one of our other suppliers who support our position that one of those chains had tried to approach them as well with a request to cut us off. They responded to them that that would be illegal.
Fortunately, things are now calm and the eight manufacturers still supplying us have good relationships with us. We are seeing many more of the smaller providers offering low prices to their clients. We believe we did a lot of the groundwork to make this possible. We have since opened up in Melbourne , Canberra, and most recently in Wanneroo, WA, and Bondi Junction, NSW. Even the final supplier to cut us off has since had a change of management (and mind) and they are working very hard to regain the trust of our clinicians, to whom we have given them full access too in line with our philosophy of giving our clients what is best for them, not us.
With hearing aid retail pricing haven fallen significantly since 2009, not all is well, however. What is of great concern to me is that many of these low priced providers appear, in my opinion, to base their low pricing on selling as many hearing aid sales as possible, with little regard for optimal client outcomes over the long term. Hearing aids are, in fact, just a tool in a hearing care professional's toolbelt. The level of service and expertise attached to them are critical to optimal outcomes for you, the client. That is unfortunately missed in many cases of price-cutting simply for the sake of being the lowest-priced provider. As such, Value Hearing is NOT about having the lowest price in the market, even though we often still do, but rather about pricing our hearing devices and services to offer the best initial and long-term outcomes for you.
New behaviours have also started to appear in the industry, since 2009. We now see some of the largest retailers use tactics such as white-labeling of hearing aids, which in my opinion does not serve the hearing aid user well. I wrote an article on these practices, detailing my opinion on how private label hearing aids impact you, the client.
Our mission is to empower and engage the individual with hearing loss through optimised hearing. Our focus on adult clients with hearing in a model where everyone pays their own way still means that our prices are much lower than some, despite our service levels and client outcomes being second to none. We will, however, never cut our prices simply to be the cheapest if that means poorer outcomes for our clients. We believe strongly in premium experiences and outcomes, priced fairly and delivered in a way that empowers you, our client.
We are truly grateful for the thousands of clients who have supported us over the years and we will continue fighting and innovating in order to deliver exceptional hearing outcomes to our ideal clients.
With your help and support, we were able to grow into the innovative and unique company we are today.
Proven exceptional long-term outcomes means we are ready to serve more clients
In June 2017 we ran a survey to all our clients since our opening. This study indicated that we were very likely providing superior outcomes compared to the industry as a whole and that we have been improving. You can read the study here.
Once we saw these results were being consistently delivered by our well-established unique processes and the fact that we are leaving the bulk of the Australian Hearing aid user population (pensioners and eligible veterans) un-served, we decided to reconsider the voucher system. We carefully analysed how the voucher system could be integrated into our current processes, while still serving our values without negatively affecting our current client base. We believed that this was indeed possible due to our mature business processes and unique technology.
As such we became Government accredited to provide free and subsidised services and hearing aids to eligible pensioners and veterans in January 2018. The intent was mainly to continue serving our long-standing clients, many of whom were ageing into the pension system.
In 2019, I finally published my Hearing aid Buyers Guide as a soft copy book on Amazon, where it finds itself mostly under the top 30 books for hearing-related problems. This book was updated in 2021 and expanded to become the Hearing Aid Buyers Companion, which we offer as a free download for anyone to benefit from. Several thousands of copies of the two books have been downloaded to date.
We continuously update our educational blog and Youtube channel with the latest education for our clients and anyone interested in the industry and keep our focus on empowering those with hearing loss, even if it means being controversial. We also publish a purely educational newsletter going out twice a month, that is delivered to over 17,000 email inboxes. It is filled with helpful information to help keep its readers informed and empowered.
Value hearing proudly continues to be one of the, if not THE, highest rated hearing clinic in Australia and we are actively looking for ways to further improve our services to our valued clients.
This is by no means the end of this story…
We'd love for you to join us on our journey.
Written by Christo Fourie
Owner and Audiologist
Value Hearing