Navigating the challenges of self-isolating with a hearing loss
COVID-19 has changed how we function as a society. As we self-isolate, more and more people are working from home, and using social media, phone calls and video calls to connect to others.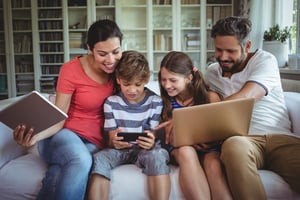 At home, we may be watching more TV than before to pass the time. Out on the streets, you see increasing numbers of people wearing face masks. An unintentional consequence of all of this has been the impact on people with hearing impairment, which affects 15.3% (3.95 million) of the Australian population.
Most people (hearing impaired or otherwise) make use of lip reading cues, contextual cues, facial expressions, and body gestures when communicating and listening. However, people with hearing impairment rely much more heavily on these tactics for essential communication, which are more easily utilisable when face-to-face with someone.
Unfortunately, our new 'normal' has us communicating with others from the confines of our homes, and the limitations of a congested network slowing down internet connection speeds, has introduced a new challenge for someone with a hearing loss.
Video conferencing allows for more visual cues; however, frozen screens and crashes due to poor internet connection can mean having to navigate this challenge in audio-only mode. Once people start talking over each other, it can become an unintelligible mess for the listener.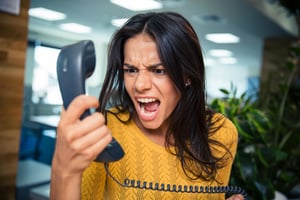 For those communicating with family members around the home, it's understandable that tempers can run a bit shorter than usual with our day-in, day-out confinement, with limited opportunities to 'escape' each other (especially those living in smaller dwellings).
It's easy to fall into the habit of talking to someone from another room, or when walking away from them - these were likely habits that occurred pre-COVID-19, but now inherently highlighted due to our prolonged periods of staying at home. Or perhaps you're now watching more TV than before to pass the time, and discovering that not everyone agrees on what the TV volume should be.
When out for essential travel, we come across many wearing face masks, and are therefore faced with the challenge of communicating with someone whose voice may be slightly muffled, and without the added advantage of using lip reading cues.
Tips to hear better
So how can we address these challenges?
Be proactive in letting others know of the challenges you are experiencing with video conferencing or communication with household members. Ask others to speak clearly and one at a time, and not to speak too quickly. Let others know how they can communicate more effectively for you (you may not be the only one struggling either).
Consider additional tools for effective communication. It may be something as simple and old-fashioned as a pen and paper, or a whiteboard for written communication. On a positive note, workplace communication for those working from home is now more written-based, with increased communication via email and chat rooms, such as Slack and Microsoft Teams.
Closed captioning apps are also available for free or at a low cost for those with Apple or Android Smartphones. A few of the options available include Transcribe Live, Otter Voice Meeting Notes, Transcribe - Speech to Text, Speech Notes, Voice Notebook, e-Dictate etc. These can be effective for face-to-face communication where visual cues are obstructed.
For video conferencing, consider using a platform that offers live closed captioning as an option. This feature is currently available for several popular platforms including but not limited to Zoom (be aware that one of the meeting participants will need to type the captioning as you go) and Google Meet. Another option would be for the video conference to be recorded, if this option is available, so that the meeting can be rewatched for any important points you may have missed. Follow up important/relevant issues raised during conferences in writing as well, to ensure that you've understood everything.
An alternative for closed captions for video calls is to use a few different tools available online to access live closed captions, e.g. Google Docs can be set up to live caption via Skype (using ManyCam) by following these instructions: What is the best tool for a video conference with real-time captions?. Note that this is only available for the English language, so it may be challenging for non-native speakers; however, it will teach people to speak clearly!
For those wearing hearing aids, consider using accessories to complement your hearing aids. Accessories such as remote microphones (e.g. Oticon ConnectClip, Resound PhoneClip) can be used to improve conversations with softly spoken household members, or to improve hearing over a distance, as required by current physical distancing measures. The same accessories can be used to connect to your mobile phone or computer, thereby providing some extra assistance with phone and video calls. Be aware that while these accessories can connect directly to your computer or laptop, you may find that using a Bluetooth dongle (e.g. BTD 800 USB Bluetooth dongle) provides a more stable connection. For those with Phonak Marvel hearing aids, you will find that you can connect directly to your computer for audio streaming without an accessory.
TV accessories can help to stream the TV sound at your preferred volume directly to your hearing aids, while your household members listen to TV at their preferred volume (or even mute the TV volume while still enjoying the streaming via your hearing aids). Some of your options are available here, and are manufacturer and hearing aid specific, so best to speak to consult with your hearing specialist to confirm which solutions work with your hearing aids: https://shop.valuehearing.com.au/collections/connectivity-and-accessories/accessory?sort_by=best-selling.
Closed captions are also available on most TVs in Australia by selecting the 'CC,' 'subtitles' or 'captions' button on the remote control. If you have Foxtel, check your settings to enable closed captions. Captioning is available on all TV programs aired between 6am and midnight, and all news and current affairs programs, on the primary free-to-air networks (ABC1, SBS1, Seven, Nine and Ten). Other digital multichannels (e..g ABC2, SBS2, 7Two, GO!, One HD etc) are not subject to the same captioning rules, so may not have closed captioning available.
Alternatively, if you don't currently wear hearing aids, consider investing in a good set of wireless headphones for the TV. We recommended Audeara Wireless Noise Cancelling headphones with a Bluetooth transceiver for TV. Unlike other headphones, Audeara can be set to your individual ear-specific hearing levels to optimise the sound quality. It can be used as regular headphones for listening to music as well as with the TV. These can also be worn comfortably over hearing aids for those who prefer headphones over direct to hearing aid streaming: Audera Wireless Noise Cancelling Headphones With Bluetooth Tranceiver Bundle
If anything, COVID-19 has reminded us not to take things for granted in these uncertain times. Communication is key for work and social purposes. Human nature craves communication rather than isolation. While we adhere to physical distancing, we need to embrace technology to remain connected, and keeping your hearing health in check will help make connecting, communicating and interacting less stressful.